Introducing the Great Plains Quality Innovation Network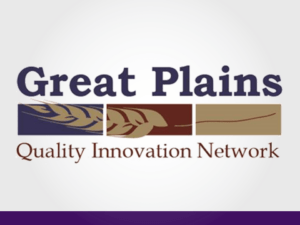 Quality Health Associates of North Dakota, CIMRO of Nebraska, the Kansas Foundation for Medical Care, and the South Dakota Foundation for Medical Care recently aligned to form the Great Plains Quality Innovation Network-Quality Improvement Organization (QIN-QIO). The Great Plains QIN was awarded the CMS contract to serve as the QIN-QIO for Kansas, Nebraska, North Dakota, and South Dakota through July 2019. The focus of the QIN-QIO activity is quality improvement and technical assistance.
Each of the four Great Plains QIN state partners share a commitment to improving quality of care and working to ensure that all patients receive the right care, at the right time, every time. Working together within a four-state network, each organization will continue their focus on improving care in conjunction with state partners, while pooling resources and common elements into an organization that can best serve the needs of healthcare providers and Medicare beneficiaries across the Great Plains region.
About Quality Innovation Network – Quality Improvement Organizations (QIN-QIOs)
The Centers for Medicare & Medicaid Services (CMS) QIO Program is an integral part of the U.S. Department of Health and Human Services' National Quality Strategy and is one of the largest federal programs dedicated to improving health quality at the community level. This network of experts in quality improvement works in partnership with patients and families, providers, communities and healthcare stakeholders in every setting in which care is delivered. QIN-QIOs assist patients and families, providers and communities to make care safer, support active engagement and self-management of chronic conditions, eliminate health disparities, promote best practices for healthy living, deliver improved access to care and make care affordable.
MAKING CARE SAFER
Working Together to Reduce Healthcare-Associated Infections
Approximately one in 25 hospital patients has at least one Healthcare-Associated Infection (HAI), according to the Centers for Disease Control and Prevention (CDC) HAI prevalence survey of U.S. acute care hospitals. In addition, the same 2011 data indicates that about 75,000 people most likely were infected as a result of receiving healthcare died in the hospital. With the goal of aligning existing public and private infection prevention initiatives, the QIO Program has made HAI reduction in the hospital setting a top priority. In addition, the Program has aligned its HAI reduction work with the Agency for Healthcare Research and Quality's Comprehensive Unit-based Safety Program (CUSP), with the CDC-sponsored state-based HAI initiatives and the work of the CMS Hospital Engagement Networks in Partnership for Patients.
QIN-QIO strategies for patient-centered, comprehensive HAI reduction target reducing Central Line-Associated Blood Stream Infections (CLABSIs), Catheter-Associated Urinary Tract Infections (CAUTIs), Clostridium difficile (C. diff) infections and ventilator-associated events. They also are responsive to community, facility and/or unit-specific needs. Examples include:
Support and structure for establishing effective antimicrobial stewardship programs
Improvement initiatives linking HAI reduction to reductions in avoidable hospital readmissions
Reducing Healthcare-Acquired Conditions in Nursing Homes
More than three million Americans rely on services provided by nursing homes at some point during the year. About 1.4 million Americans reside in the nation's 15,600 nursing homes on any given day. Those individuals, and an even larger number of their family members, friends and relatives, must rely on nursing homes to provide reliable, high-quality care. The Affordable Care Act called for CMS to develop a strategy that will guide local, state and national efforts to improve the quality of care in nursing homes. The most effective approach to ensure quality is one that mobilizes and integrates all available tools and resources; aligning them in a comprehensive, actionable strategy that nursing homes can adopt and sustain.
Through the National Nursing Hhome Quality Care Collaborative, QIN-QIOs support system-wide improvement, which helps eliminate Healthcare-Acquired Conditions (HACs), like pressure ulcers and falls and can dramatically improve resident satisfaction. Thousands of facilities across the country participated in the collaborative between 2012 and 2014 and many are continuing participation. Others are invited to join, especially those that attained a one-star rating in CMS' Nursing Home Compare program, indicating they have room for improvement on multiple dimensions of resident care and safety. QIN-QIOs lead the regional and community levels of the Collaborative, which provides training and tools based on the best clinical, management and leadership practices of high-performing nursing homes. Topics include increasing mobility among long-stay residents, decreasing unnecessary use of antipsychotics for residents with dementia, preventing potentially avoidable hospitalizations and decreasing HAIs and other HACs. QIN-QIOs supplement collaborative activities with focused technical assistance to help facilities implement what they have learned.
Promoting Effective Care Coordination and Communication
Both the national and CMS Quality Strategies recognize the importance of coordinating clinical decisions and improving communication between providers. The QIO Program has made great strides in helping providers and communities reduce avoidable readmissions and improve transitions of care (at about $1 billion in cost savings from 2011 to 2014). QIN-QIOs are uniquely situated to spark and strengthen community-based care coordination initiatives through their experience in building coalitions of acute and post-acute providers, practitioners, long-term care services and supports, patients and their advocates and other local stakeholders.
Adverse Drug Events (ADEs) are a factor in the care coordination equation. Poorly coordinated care contributes to ADEs when different providers unknowingly prescribe medications that have the potential to conflict and complicate the patient's condition. In turn, ADEs may trigger unnecessary diagnostic tests and avoidable hospital readmissions. From 2011 to 2014, QIO Program efforts to improve care transitions helped avoid approximately 44,640 potential ADEs.
As the Program moves forward to amplify and extend its assistance for care coordination, QIN-QIOs will continue to play an essential role, facilitating the formation of new coalitions and encouraging all collaborative groups to focus on improving the quality of care. Emphasis is placed on serving Medicare beneficiaries with multiple chronic conditions, with health literacy needs or those living in rural areas, specifically, those who will benefit the most from the transformation of our fragmented healthcare system into one in which coordinated care is the norm.
IMPROVING HEALTH
Improving Cardiac Health, Preventing Stroke and Reducing Cardiac Disparities
Heart disease and stroke are, respectively, the first- and fourth-leading causes of death in the United States for all demographic groups, according to the Centers for Disease Control and Prevention (CDC). The disproportionate impact of these diseases on racial and ethnic minorities is a key target of QIN-QIO work with Medicare beneficiaries and their families, providers and community stakeholders.
In alignment with the DHHS Million Hearts® goal to prevent one million heart attacks and strokes by 2017, QIN-QIOs focus on improving the ABCS of cardiac risk reduction (Aspirin therapy when appropriate, Blood pressure control, Cholesterol management and Smoking screening and cessation). The Million Hearts® initiative also created a priority focus on blood pressure measurement and control. High blood pressure has long been considered a "silent killer" in that many people do not demonstrate signs and/or symptoms of the disease. As part of this national effort, the QIO Program is targeting blood pressure measurement and control as essential to preventing heart attacks and strokes and decreasing the number of Americans who die unnecessarily as a result of untreated hypertension.
Reducing Disparities in Diabetes Care
In the United States, nearly one-third of adults 65 years and older have diabetes, according to the National Institutes of Health (2011). Diabetes is the most common cause of blindness, kidney failure and amputations in adults and a leading cause of heart disease and stroke.
The CDC reports that African-Americans are from 1.4 to 2.2 times more likely to have diabetes than Caucasians, that people who identify as Hispanic/Latino have a higher prevalence of diabetes than non-Hispanic populations and that the prevalence of diabetes among American Indians/Native Americans is 2.8 times the overall rate. Targeting these populations and Medicare beneficiaries of any ethnicity living in rural areas, QIN-QIOs, through the Everyone with Diabetes Counts program, help patients and families, providers and communities address this serious chronic condition and its disproportionate effects on racial/ethnic and rural populations.
QIN-QIOs work with familiar and trusted people and organizations within communities to provide diabetes self-management education where it is convenient; for example, holding classes at a local senior center. This community-based approach encourages participation and provides a structure to support people in their ongoing commitment to self-management. By working with healthcare providers, practitioners, certified diabetes educators and community health workers, people with diabetes can acquire the knowledge and skills necessary to improve the quality of their lives by preventing or lessening the severity of complications resulting from diabetes.
Coordinating Prevention through Health Information Technology
Effective use of Health Information Technology (HIT) decreases paperwork, improves access to medical records and facilitates care coordination among providers. QIN-QIOs have many years of experience working with physician practices and Regional Extension Centers (RECs) to support the use of certified Electronic Health Record (EHR) technology as a tool for better patient care. Currently, QIN-QIOs are providing targeted technical assistance to physicians, acute care hospitals, and critical access hospitals that qualify for the Medicare EHR Incentive Program and have significant barriers to using EHR functionality for quality improvement. QIN-QIOs continue to collaborate with RECs to increase the number of practices that employ an IT-enabled care management approach for primary care prevention and early diagnosis. Examples of this approach include using EHR functionalities, like registries, to identify patients who need a mammogram or other preventive service. By participating in QIN-QIO health IT initiatives, physicians also will be well-positioned for future payment incentives linked to clinical data reporting.